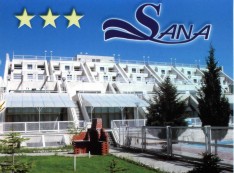 Spa hotel "Sana"
Address: City of Varna 9000
Tel: +359 52/36 13 79
Fax: +359 52/36 19 88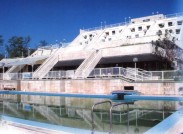 The Sana hotel is situated 10 km away from the city of Varna, on the highway Varna - Zlatni Piasatzi/Golden Sands/, in the St.Constantine resort. It is situated in a vast botanical park of rare tree species. The hotel is 300 m away from the sea.
The hotel has its own hyper-thermal spring, with water of proven medical properties. It fills 1 covered and 2 open pools, one of which is for children.
The hotel can accommodate about 160 tourists - 27 two-bed rooms, 10 three-bed rooms, 24 apartments of 2 beds each, and 6 apartments of 4 beds each. The rooms have modern furniture and face the park.
The Sana hotel has a restaurant for 100 persons, a banquette-hall for 40 persons, a day bar, two conference halls /small one of 40 seats, and big one - 120 seats /suitable for seminars, training courses, anniversary meetings.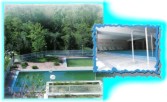 The spa-center has a modern medical equipment, and is monitored by qualified specialists. Treated are diseases of the locomotory system, the peripheral nervous system, respiratory system and gynaecological disorders. The medical services include tangentor, pearl bath, massage, electro- and photo therapy. There are fitness and sports hall, sauna.
Sea, mineral water, century-old forest, rest and recreation - all this will make your vacation pleasant, useful and memorable.